We are a digital solution partner solving challenges for Fintech businesses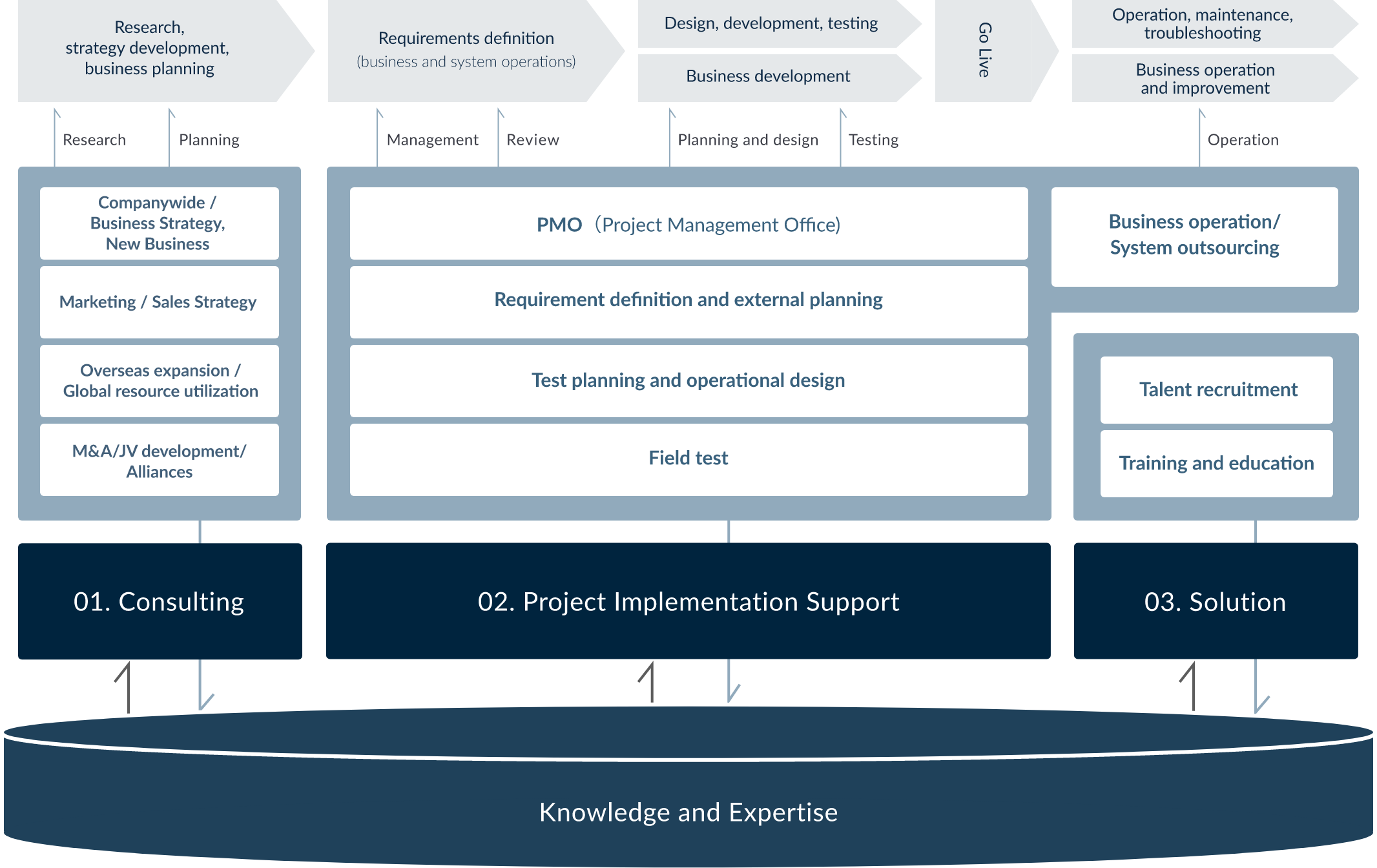 01 Consulting
Atlas Technologies combines global expertise with deep local knowledge to help clients achieve their goals and realize their full potential. Our diverse team provides consulting services to Japan's leading companies, as well as to global leading companies headquartered in the US and Europe, and Southeast Asian unicorns in the Fintech space.
Project Cases
Telecommunication company

We reviewed the management plan and analyzed the company's challenges based on market conditions, technological progress, and competitor evaluation to determine what strategies should be taken to promote financial services in line with their management policy. We facilitated discussions with the client company for strategy development in line with market needs. We contributed to decision-making process for the execution of large-scale projects. 

General trading company

We assessed the market potential (market size, potential needs, competition, etc.) of the global payment market that the client company planed to enter, built a hypothesis for the business model at the time of market entry, and formulated an action plan for market entry. We also supported newly established companies in their strategies to expand sales of their services.

Credit card brand(Fortune 50)

Provided cross-functional project management support to clients across five countries (US, UK, Australia, Singapore, and Japan). Promoted support for new product launches, system platform migration, as well as membership and regulatory compliance.
02 Project Implementation Support
After the strategy is formulated, our team will work together with the client company in the project implementation phase. In addition to assisting in the selection of partners to build the optimal systems and business operations for the project, we also achieve total optimization throughout the project by effectively integrating with the client's existing systems and business operations. In addition, our BPO services provide outsourcing solutions designed to meet the unique needs of our clients. This not only reduces costs, but also improves both the efficiency and productivity of your business.
Project Cases
Telecommunication company

In a project to build the backbone for a credit card system, our team was responsible for establishing the development framework for each major subsystem and assisting in the definition of requirements. A member of our team was in charge of stakeholder management, authorization and sales management, international brand management, credit management, accounting management, test management, quality management, and overall PMO lead.

Credit card company

In a project to build the backbone for a credit card system, our team provided support for external design review, test planning and preparation, response to any challenges and Q&A support, acceptance of deliverables, field testing, operational design and final handover.

Our team supported the development and execution of implementation plans for user testing (creation of implementation procedures and test cases, test execution, business response, and verification), operational testing, DR (Disaster Recovery), BCP (Business Continuity Plan) testing, and field/acceptance testing. We also supported the development and execution of an implementation plan.

Major Payment
Processing Company

We supported the development of specifications and enhancement for system operations for international payment brands (Visa/Mastercard/UnionPay) and domestic networks (CAFIS/CARDNET and other relay centers).

We provided support for merchant management operations (screening, managing registration, changes, and cancellations), terminal management operations (terminal registration, terminal management, and payment center management), and various transaction management operations.
Consulting and Project Execution Support Features
01

Extensive experience in the Fintech field

Our members are specialists in the Fintech business and provide comprehensive support for strategy planning, system construction, and business operation design from the standpoint of client companies.

02

Providing one-stop services by a diverse team of professionals

Our diverse team of experts provide comprehensive support to our clients ranging from "strategic and business planning," "requirements definition," "design, development, and testing," to "operation and maintenance" without causing any disruption in the project.

03

Accommodating to diversified international projects

We contribute to the growth of Fintech businesses in each region by leveraging our professional team's extensive knowledge of overseas business. We help our Japanese clients grow, expand and transform in overseas markets.  We also help overseas companies enter the Japanese market and carry out projects in Japan.
03 Solution
Atlas Technologies also has a dedicated talent procurement division. We are the first Fintech recruitment agency in Japan to provide support for Fintech professionals. The training and development services we provide to our clients are also unique and practical, and contribute to the development of leaders who will advance the Fintech business to its full potential.
Talent Recruitment Features
Enhanced matching by utilizing our knowledge in the Fintech field

Our team consists of highly qualified Fintech professionals who are experts in the field. The team is able to enter into specialized conversations with client companies and job seekers, resulting tailor-made matching.

Access to a wide range of talent

Utilizing our own network and registered personnel information, we are able to introduce professionals in the Fintech that our clients are seeking to recruit.

Extensive experience as a Fintech company

We offer a comprehensive range of support ranging from client work to setting up Fintech organizations.